For today's episode, Kelsi Ward talks about what inspired her to make a career change, how to help people reach their goals, and why she believes becoming a realtor in Palm Harbor is the right move. We are excited to welcome Kelsi Ward to The Hathaway Group as she begins her real estate career!
Kelsi Ward was previously on the podcast when we discussed her journey has a personal trainer with Little Warrior Fitness. If you've missed that episode, you can listen to it here:
Now, Kelsi is starting her career as real estate agent who understands the importance of trust and excellence in a business. She also uses her experience and expertise to guide her clients through big life transitions. Helping them to navigate the buying/selling process and realize their real estate goals.
The Reason for Her Big Career Shift
Kelsi was inspired to enter the real estate business after working with an awesome realtor who previously made the process of buying her home seamless.
Kelsi also invested in some properties in the past, and from this experience, she has learned the importance of following all the steps in the home-buying process to avoid surprises.
Kelsi's main drive is to help others through the process of buying or selling a home and to see the look of excitement on their faces when they reach their goals. She recently joined The Hathaway Group within Berkshire Hathaway Home Services mainly because she was drawn to the company's values of integrity, passion, and excellence.
Few Tips to Remember When Buying Your First Home
As per Kelsi, following all the steps in the home-buying process is super important.  This includes getting a home inspection to make sure there are no hidden surprises that could come up later. Understanding what's going on with the home you are buying helps you make smart financial decisions. By doing all of this research ahead of time, you can be sure that you are making the best decision for yourself and your family. This is where Kelsi will be a valuable resource for anyone looking their go to Realtor in Palm Harbor.
Additionally, making sure you are fully prepared before beginning the home-buying process is also crucial. This means being aware of all the steps involved and ensuring you have the time and resources necessary to complete them. For instance, understanding your financial picture and the costs associate with buying or selling is an important step in helping you make smart decisions that are best for you.
Things you Need to Consider when Doing the Career Shift
During this interview, Kelsi also highlighted that it is important to have values that align with the company you work for. Kelsi found this in The Hathaway Group at Berkshire Hathaway HomeServices.
Kelsi is definitely looking forward to helping clients through their home-buying and selling process. She knows from experience that there are many steps involved in purchasing a property, and it's important to follow them all carefully and have someone guide them through the process.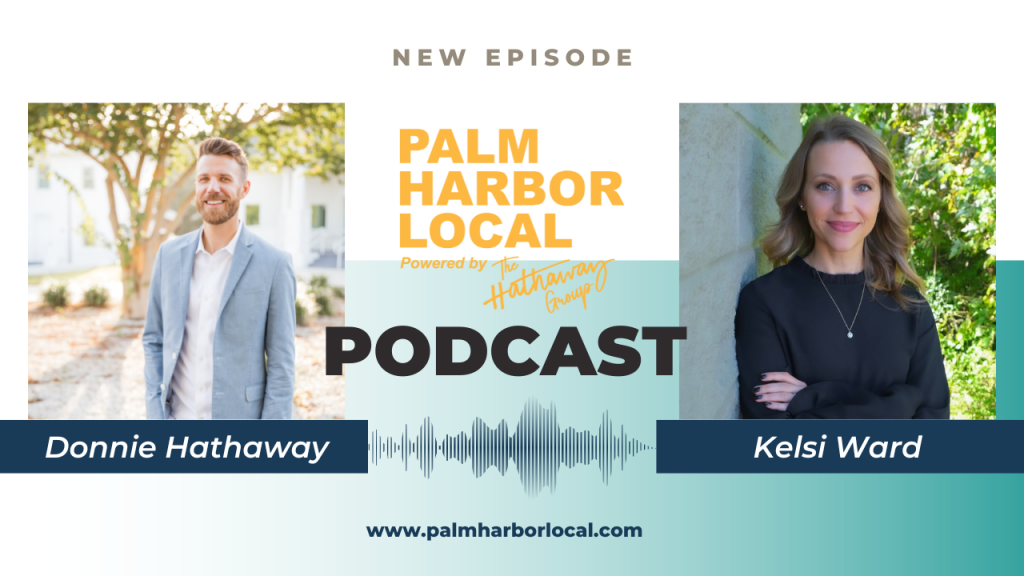 Connect with Donnie: 
– Follow Donnie: @donnie.hathaway
– Follow Palm Harbor Local: @PalmHarborLocal
– For more real estate information – www.donniehathaway.com
Join the locals and stay up to date on all things Palm Harbor: https://palmharborlocal.com/
Connect with Kelsi through:

If you'd love to have someone guide you through the homebuying process, then definitely reach out to Kelsi before she gets in-demand:
– Facebook: @Kelsi Ward
– Instagram: @thekelsiward
-LinkedIn: @Kelsi Ward
-View Open Houses in Palm Harbor: HERE