Palm Harbor Hidden Gems — Welcome to the Palm Harbor Podcast, where we explore what this vibrant community offers. In this episode, we'll be taking a closer look at why Palm Harbor, Florida is such a great place to live, work, and play.
From the food and drink scene to the great outdoors and the welcoming community, there's something for everyone in Palm Harbor. Today, I will be sharing my personal experiences and insights on the best places to shop, catch a stunning sunset, grab a coffee, and indulge in some delicious food.
As we dive into the heart of Palm Harbor, you'll quickly see why this community is so special. With its unique blend of modern amenities and natural beauty, Palm Harbor is the perfect place to call home. Whether you're a long-time resident or just looking to visit, you'll find plenty of inspiration and insights to help you live your best life in this amazing community.
So, sit back, relax, and join us as we explore the best of Palm Harbor on this episode of the Palm Harbor Podcast.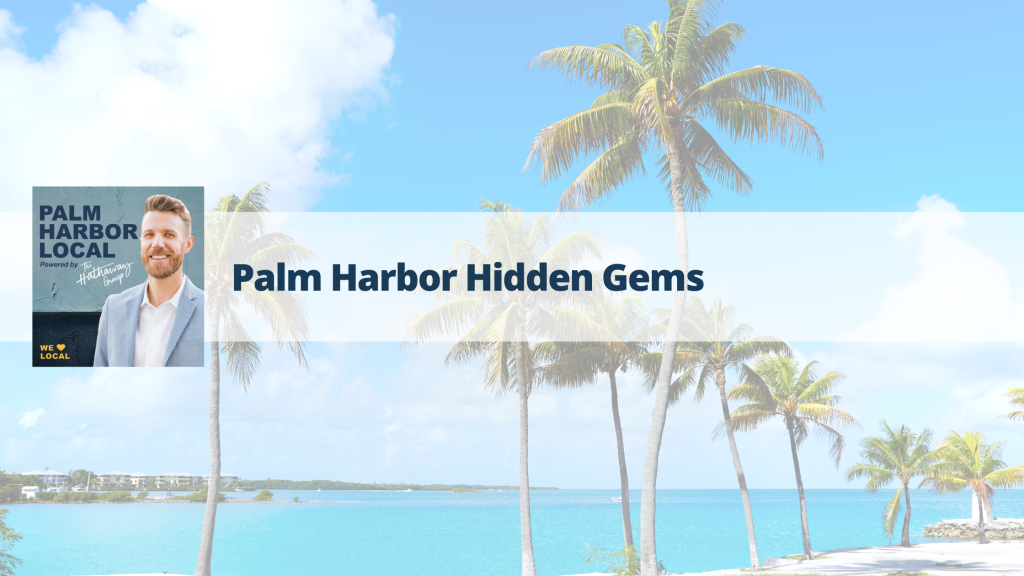 If you want delicious pizzas Downtown: 
Fireside Pizza Cafe, located in Downtown Palm Harbor, is said to offer some of the best pizza in the area according to frequent customers. They particularly rave about the margarita pizza with added pepperoni, which seems to be a popular choice among regulars. The Fireside Salad is also recommended as a perfect accompaniment to the pizza, described as fresh, clean, and delicious.
While the pizza is the main attraction, Fireside Pizza Cafe also offers a variety of other dishes, such as sandwiches, that customers are encouraged to try. Overall, for those seeking a top-notch food experience in Palm Harbor, Fireside Pizza Cafe is a must-visit spot, according to some patrons.
If you want an excellent spot to watch the sunset: 
Our favorite spot in the area to watch a sunset is Live Oak Park in Crystal Beach. As owners of a short-term rental property in the area, they have developed a love for the community and appreciate the beauty of Live Oak Park's waterfront location. The park offers a sandy beach and grassy area to sit and watch the sunset, with locals often joining in the experience. Additionally, there is a seashell trail along the water that provides an opportunity to explore the mangrove coastline.
While Live Oak Park is one of the most beautiful spots to watch the sunset, John Chestnut Park in Palm Harbor is also highly recommended. This park offers a variety of activities, including a dog park, playground, and softball field, and is known for its wildlife, with deer sightings being common. Overall, Live Oak Park and John Chestnut Park offer unique and enjoyable experiences for visitors and locals alike.
If you want to shop for a variety of items: 
Antiques and Uniques in Ozona is one of the go-to places if you want to find a variety of cool and unique items. This spot features local vendors who offer a range of unique and antique items that reflect the history of the area, including citrus farms. Visitors can find items from local artists, as well as other interesting pieces. The back parking lot often hosts a weekend market where additional vendors set up shop. Whether one is looking for something specific or just wants to browse, Antiques and Uniques is a great place to check out in Palm Harbor.
If you want a good sip of coffee: 
One spot that's a must-visit for any coffee lover in Palm Harbor is The Fix Coffee + Vino, located in the downtown area just off alt 18. They serve up some seriously amazing coffee, and that's not just because it's local – this stuff is the real deal. Whether you're a fan of a simple black coffee or you prefer something a little fancier like an Americano, you're sure to be impressed by what they have on offer.
CONNECT WITH DONNIE: 
Stroll through the laid-back streets of the Palm Harbor community with this informative podcast, proudly brought to you by Donnie Hathaway with The Hathaway Group, your trusted guide and local expert in navigating the diverse and ever-changing property landscape of Palm Harbor.
Work with me + FREE Resources
Would you like help buying a home in Palm Harbor? – Buyer Consultation
Would you like help selling your house in Palm Harbor? – Seller Marketing Consultation
Download our free buyer's guide today – Buyer's Guide