Finding the Perfect Brewing Balance with Bren & Jon Cueni
Having a close-knit community is something that not every business owners give a lot of importance to. Little did Jon and Bren Cueni know that their loyal customers can definitely keep their business afloat during challenging times. When the COVID-19 pandemic hit and businesses had to close for a few weeks, it became a challenge to figure out how to pay the bills. Beer connoisseurs, Jon and Bren, realized the direct effect of taking good care of your loyal customers and how that can help keep your business afloat. Cueni Brewing Co. is known in town for having great tasting beer as well as great atmosphere.  Lo and behold these previously-Ohio-based co-owners had built a thriving brewery house in Dunedin, Florida.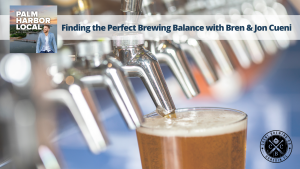 Jon Cueni started homebrewing in the year 2011. Experimenting with different flavors, yeast, temperature, and all other alcohol-specific parameters to produce signature beers. In all started has a hobby and later turned into a business, sharing these beers at their local brewery in Dunedin, Florida.
Jon said that it was a difficult start as he had almost zero to no knowledge about brewing beer but that certainly did not stop him. Due to his perseverance, passion and the abundant support from friends in the brewing industry, he started to learn one or two things about brewing the perfect beer. As a matter of fact, when asked about his favorite part of his business, Jon answered that it is definitely the process of brewing the beer. Experimenting with different yeasts, temperatures, and conditions to create that perfect beer that their customers will surely love.
The Benefit of Community

Jon also talked about this community of helping entrepreneurs in his space.  The local community of brewers are always willing to lend a hand and they have benefited from the support of this community . Because of this, Jon and Bren also made sure to pay it forward by teaching aspiring brewery owners the ins and outs of starting a brewery business (especially the financial aspect of it).
On a good note, with the economy going back to normal, Jon and Bren never failed to actually listen to their customer's feedback. They always wanted to make sure they took the feedback and transformed it into something useful for the benefit of the customers and their business. Additionally, these co-founders are very much into making sure that their brewery is a place that encourages friends, family, and customers to enjoy the conversation. FYI: they are not a big fan of loud music or TVs in the brewery.  You'll hear nothing but genuine conversations and laughter from happy customers.
Amidst the demand that their brewery business asks from them, Bren & Jon highlighted the idea of setting aside time to spend with family, exploring Florida and all the beautiful scenes here. They mentioned that starting a business can be tough, exhausting, and very time consuming. Finding the perfect balance, just like in brewing, is very important. As they say, let your money work for you and not the other way around. 
Visit Bren & Jon's brewery at 945 Huntley Ave, Dunedin, FL 34698. Now, if you are not able to, go ahead and follow them on their website and social:

Website: Cueni (Q-Knee) Brewing –

The name is hard to say, the beer is harder to resist. We look forward to serving you

.
Listen to the podcast here