Have you been thinking lately about what a good mental health situation looks like? What do you think are the ways that you could foster a healthy space in your business?  In today's episode, we are tackling all things mental health in business and life.

Our guest for today is the owner of Creative Counseling Solutions,  Erica Jayne Dahlquist. EJ specializes in mind-body-spirit counseling and has been in practice for over 12 years. Her goal is to help people transition from a world full of trauma to optimizing their full potential.
EJ herself holds advanced certifications in PTSD and trauma, sexual abuse, addiction & recovery, and grief & loss. On a corporate level, she collaborates with clients as a Professional Mental Wellness Trainer and has ever since been passionate about empowering clients and corporate businesses to foster productivity and live their best lives.
EJ's Career and Education
EJ is a licensed Neuro-Linguistic Programming Hypnotherapist at the Master Practitioner Level and has ever since been well-grounded in her practice. In her early adult life, EJ found her passion for helping through various volunteer work that she has done both in school and in her community. She mainly got her influence from her parents who also took advanced roles in community building.
She had her undergraduate studies majoring in deaf education and had some self-directed classes for sign language. However, she discovered a passion when she came home and studied at State College of Florida. Taking classes in psychology. For her, the rest was history as she started interning for Pinellas county's public defender office. Together with other government officials, she spearheaded the jail diversion program. She took active roles in doing therapy sessions (with clinical supervision) and saw how wellness is important, both for the rich and poor.
Mental health perspectives in the community 
Although the topic of mental health in business has been widely talked about before, it is not until the COVID pandemic when everyone was on lockdown did people start really paying attention to the situation of their mental health. People started realizing that working from their homes could help them in terms of regaining their balance and spending more time for themselves, and the like. When everything transitioned back to normal, there was a huge toll on workers. Thus, the corporate setting was challenged to keep the workplace a safe place to be in.
Tips on how to have a better mental health situation
Hear it directly from EJ on how one could have a better mental health situation.
Have a daily routine.
Do journaling or meditation. 
Be present today. 
Do mindful breathing
Listen to a podcast that helps you relax.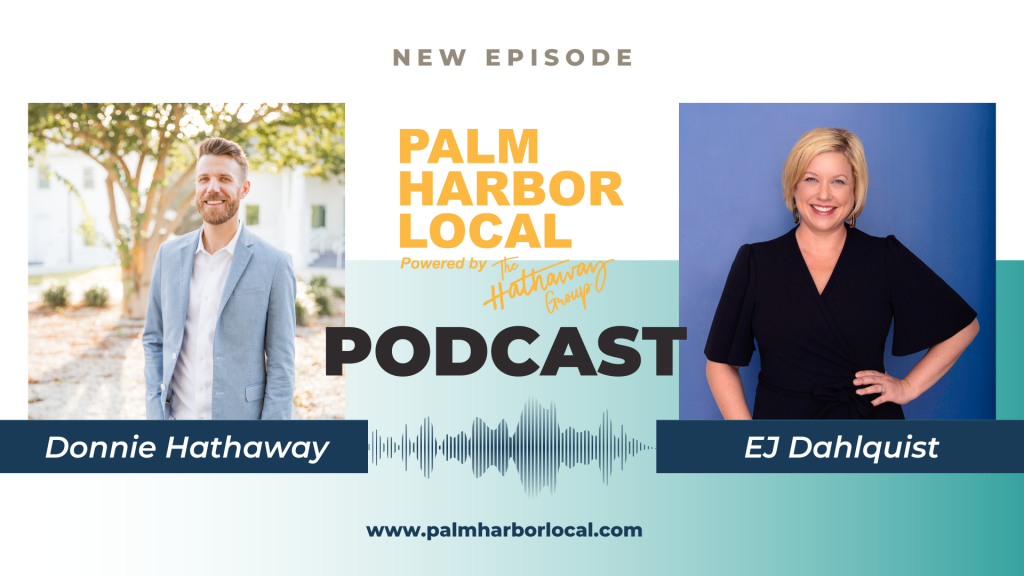 Her favorite Palm Harbor Local Spot/s
EJ can't seem to get enough of Palm Harbor and named a few of her favorite spots. One of these is the Dunedin Causeway where she loves to walk. Second is the delicious Poke bowl Frenchy's Stone crab & Seafood Market and also Fred Howard Park to complete her bucket list.
How to Connect with EJ
As of this time, EJ's schedule is full to accommodate individual clients but if you are a corporate setting looking to better the mental health situation in your workplace. Reach out to her using these channels:

CONNECT WITH DONNIE:

Join the Locals and stay up to day on all things Palm Harbor – https://palmharborlocal.com/