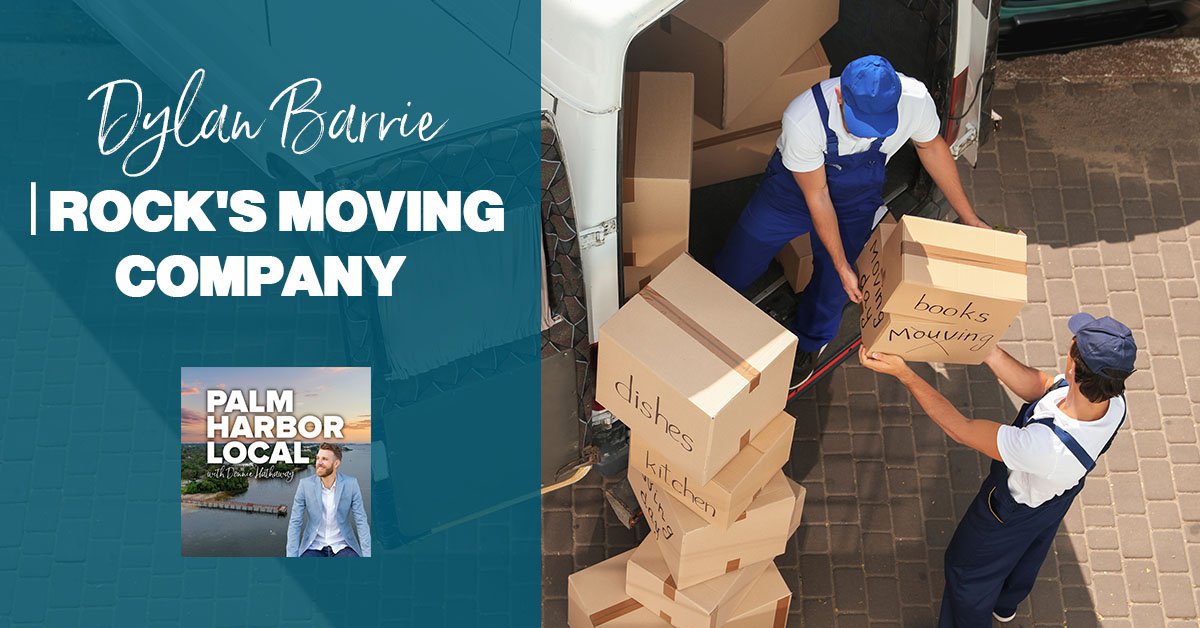 In this episode we sat down with the VP of Rock's Moving Company Dylan Barrie. Rock's Moving Company has built a solid reputation as one of the best moving companies in the Tampa area. In an industry that can be tough to get positive reviews from their customers they have been able to achieve this year after year. Dylan has been a big part of that with his work in the community and service with the Pinellas Realtor Affiliate Business Partners program. If you are looking for a company that will handle your next move with compassion and care than give Rock's Moving Company a call.
Looking to connect with Rock's Moving Company!
Sign-up to our email list – PalmHarborLocal.com
Follow us on Instagram – https://www.instagram.com/palmharborlocal/
—
Listen to the podcast here:
Dylan Barrie | Rock's Moving Company
In this episode, we sit down with Dylan Barrie from Rock's Moving Company, one of the most well-respected moving companies in our area and maybe even the country. They've got a great reputation and do a great job with all the movers. They have moved some of my buyers into their new homes. I'm excited to sit down with Dylan and explore more about him and Rock's Moving Company.
—
Dylan, I appreciate you joining me. I'm excited to get to know you a little bit more. I appreciate you coming out and doing this show with us. You are involved in a couple of different businesses, one of them being Rock's Moving Company, which is how I've got connected with you.
I have had a couple of my past buyers that have used Rock's Moving Company and have said great things about the company and the experience that they have had. Why don't you tell us a little bit about Rock's Moving Company, how you've got started and what you are about? You are the VP of Rock's Moving Company.
Thank you very much, Donnie. I appreciate that, and we appreciate your referrals. It's great to meet you as well. I felt like I already knew you because we have talked on the phone. I have seen your name when the referrals come in. Rock's Moving Company is a local moving company here in Clearwater, Florida. We are right off Ulmerton Road. We have been in business since 1998.
We are a full-service company. We will come out, pack everything up, put it in one of our trucks, and we will move you to anywhere in the State of Florida and vice versa, from anywhere in Florida to this area of Hillsborough. We have storage containers. We will come out and load those up. We can bring them back to our warehouse and store them for you.
We are a company that has all full-time employees. We don't pick up day laborers and we are not a subcontractor. We don't subcontract our work out to other companies nor do we subcontract by other companies. There's a lot more accountability there. Our guys are full-time. We know that they come into our office every day, and then come back to our office when they are done. That's a little bit about us.
We have learned a lot. It's a tough business in moving business. We hear a lot of horror stories. You get a bad rap sometimes. You've got to be mentally tough to be out there on a truck and do the job. A lot of times, it's very strenuous as well as mentally tough. It takes a certain type of person to do it. You've got to love what you are doing out there.
There are some good points there. One thing that stood out to me when I was looking at the website is the hiring process on how you select a mover or what you go through when you hire somebody to the company. They have a trial period where they have to improve both mentally and physically during that trial period, and if they don't do that or are not a good fit for the team, they don't get hired. I thought that was interesting. It's a great way to filter out and find out who's a good fit for your team and the company.
It's tough out there. There is a process. It's also important to be able to work together as a team and be a part of a team because you are going to need to work with these other guys. There is a lot of technique to many things that guys do. You are working with very heavy furniture, going up and down the stairs all day long, there are twists and turns, disassembly and reassembly of furniture. You've got to be a thinker out there. You've got to pack and get it all in the truck. We need guys that can walk into a big, beautiful home and can look around with confidence and be like, "Let's get this on the truck." That's important.
Putting it on the truck is another thing like making sure it all fits, it's not going to get damaged or anything like that. That's a talent in itself.
It's a skill. It's something that you develop over time. You find out the best ways to keep things safe and secure them in a truck. You get the maximum amount of space out of it as well.
You have been involved with Rock's Moving Company for quite some time. Tell us a little bit about how you've got started with the company and the journey to where you are now.
I found Rock's Moving Company through an ad in the newspaper back in '98. It was based out of an apartment complex that I lived in. I started working as a mover. I remember the first day that I worked at Rock's. We were out until 2:00 in the morning, and there were a lot of stairs involved in the job that we did. I was not in shape to be a mover. I was in shape if you looked at me. I went home, and the next day I couldn't walk. I had to take a couple of days off.
I remember they were like, "Do you think you are going to be coming back?" I was like, "Yes." I came back, and I loved it. I love being physical and the comradery with the guys. I love going somewhere different every day, getting to meet all these cool people and customers, and going into some nice homes. It's very interesting. I like the fact that you are not in the same place all the time.
That's one thing I have enjoyed about real estate. Every day is completely different. You are not just, "Let me go clock in. I'm at the desk for nine hours, and then I go home 8 to 9 hours." You are out and meeting new people. It's the same thing with movers.
I did that for a while. I started driving a truck and became a mover. It was something that I liked. I took a lot of pride in it. Eventually, I started my own little company, and it wasn't long after that, I was in a car accident and hurt my back. I couldn't do the moving anymore. I went into another line of work for quite a few years and came back to Rock's Moving Company. I worked in the office and did a lot of the administrative work there. I learned how all that worked and started doing a lot of marketing. It has been a very good experience for me and the company. I enjoy it very much.
Going back to what you talked about. You went back to Rock's Moving Company. What brought you back to the moving company? What have you learned? What's your experience been like in this new role compared to what you were doing before?
I came back because I had ended my run at the previous company. I wanted to go into something different. I started going to college to get a degree. In the meantime, I was looking for a couple of part-time jobs as I was going through college. I called the owner of Rock's Moving Company and said, "You are going to get a couple of phone calls for reference purposes."
Professional movers must hone their skills in finding the best ways to keep things safe and secure during transport while maximizing the amount of space used.
A couple of weeks later, he had called me. I was working and going to school. He said, "Are you still out there looking?" I was like, "I've got a couple of things going on." He's like, "You can come back and work in the office here." I did that. One thing led to another. Once I've got into the office, I was running around. I want more. I want to build. I'm a go-getter. I saw that there was a lot of opportunity for marketing, so we started doing more of that. It wasn't too long before that started paying off.
I joined the Affiliate Business Partners of the Pinellas Realtor Organization, and that was a big game-changer right off the bat. I immediately came into contact with other marketing professionals. This wasn't something I had consulted somebody about or went to school for. I've got to hear it right from the people on the ground and doing it. I learned a lot. I started following people around, picking up tips, doing what I knew was working at the time, and still paying off.
You mentioned when you came back to Rock's Moving, the position you have now wasn't there. It was like, "You come back and work in the office. Let's possibly grow the company." You have this drive and motivation to expand your role or the company. Where does that come from? Is that something you have always had or was there an experience during that time that brought that up?
That always comes when I find something that I like or get excited about easily. I'm an excitable person. Scott Chaddock, the Owner of Rock's Moving Company, is a great guy. He's like family to me. He could see me getting excited. He's a smart guy and got a lot of experience. He could see my passion. It was something that he wanted to help me expand on, and it worked out. He created a great company based on honesty and doing the right thing. That's why we have been able to stick around for so long. It all starts at the top.
Most of the stories that I hear from movers are not good. It's a shame that they have a bad rap. You have been able to move past that. The experience and stuff you create with the customers have been great. A lot of people have said a lot of great things about you, and it's not the people that I have worked with. It's everybody. You can look on your social media pages and whatnot. Everyone has great things to say.
We are lucky we have great guys and movers. They love what they do. We have awesome people in the office who are on the phone with the customers. That's the first contact a lot of times that the customers have to have a good experience with our office staff. Every move is different. As you know, moving is extremely stressful for people.
A lot of times, people have a huge amount of things going on, whether it's a death in the family, divorce, a huge life change, whether it's good or bad, and they've got to move everything around. A lot of things are up in the air at the time of the move. There is a lot of money involved. People are packing up everything they own. They are putting it in a truck.
It's going away from them, and it's going to the next place. There's a lot of stress involved. Sometimes people are moving into an assisted living facility. There are a lot of firsts for people. Us, being there and handling it in a kind, compassionate way and trying to give them as much information about what's going to happen as possible seemed to take some of that edge off.
It is preparing them like, "Here's what to expect the next couple of days or on this date." It's the same thing with us in real estate. It's like, "Let's set the expectations up front." In that way, as things evolve and the transaction goes on, they have already been prepped or they know what to expect moving forward. I always joke with people that the worst part of buying a home is packing things up and moving them. Even if you are hiring guys to do it, there's still work involved. There is still a stressful time. There's a lot going on on those couple of days where you are moving.
Over those many years, we have learned a lot about what's going to happen and how things go. We have seen a lot of situations.
You mentioned the Affiliate Business Partners at Pinellas Realtor Organization. That's another thing. As you said, you are passionate about it. Let's talk about that. You've got started in that program because of Rock's Moving Company but what has it done for you as a business?
It has been a tremendous opportunity. I walked in there several years ago. I was told, "You should go check out this place down the street from where our office is." I go on in there and see how it goes. I walked into a room of 100 people, and I was overwhelmed. I hadn't done any marketing and public speaking before. I'm not a natural at that.
I sat there, and the chairman was up in front of the group. They were going around the room and saying different things. They've got to a part of the meeting where they say, "If you have a tagline, you stand up, say your tagline. Put $5 in the bucket. That $5 goes to charity." They were going around the room with a microphone. A lot of people had these clever taglines. I stood up, and I would imagine my face was completely red. My heart was pounding, and everybody was looking at me. I didn't know if I had a tagline but on our sign, it says, "Rock Solid Men. Rock Solid Service."
I said, "That's on our logo and has been since the beginning." Everybody started cheering, and it was crazy. That got a lot of attention from everybody, and I kept that as a tagline. I enjoyed that group. A lot of people came up to me and introduced themselves to me afterward. They told me about other things going on real estate pitches and different things in the area that I could attend and market some more.
I continued to come and go to all the events. I showed up to all the meetings and helped out doing whatever I could do. After about a year of doing that, and by the time that year was over, we started to see a lot of results, referral sources opening up, and being able to run more trucks. That's a good thing, getting more trucks on the road.
After a year, the chairman called me and said, "Can you come down to my office?" We sat down and said, "Would you like to sit on my board?" I was like, "You are calling the guy from the moving company?" I have always looked at everybody on the board. They are very intelligent, savvy business people. They worked hard to get in the position they were in.
I knew that I was very scared and intimidated but I knew that I had to do it, so I did. I said, "I would go to the board meetings." My biggest thing is I keep showing up. I'm pretty steady at that, and that has gotten me to where I am, whether I wanted to be there or not, I would show up, and opportunities kept presenting themselves.
It is a great feeling to work with another person. You build a connection and get to know them better. It fills your heart when doing something for somebody else.
Over the years, our chairman stepped down, and then another board member stood up and became the chairman. The board voted that they would want me to be the following. These are all people I look up to and admire. They voted me to be the chairman. I get to represent Rock's Moving Company. It has been a great journey. We did discuss all the benefits you get from being an affiliate business partner. You get to showcase yourself and your business. You get involved in the community and with the real estate members.
There are lots of great connections. Members-wise, in Affiliate Business Partners, you have over 500 members now. It's a lot of connections you can make being a member.
For a moving company, everybody is a potential client. It works out great for us. Personally, it has helped to develop me. I have picked up a lot of good tips from watching people and doing what they do. I have learned a lot.
That sounds like the same thing you have with Rock's Moving Company on how you've got into this position and grew the company. It's the same thing with Affiliate Business Partners. You showed up day after day, even if you didn't want to be there. You knew this was the direction that you needed to go. It's giving you success and everything you have done so far.
I have been lucky to be surrounded by a bunch of great people that have encouraged me, been helpful to me, showed me what to do, and been my backup. I have had a lot of great support.
Anybody who has success needs that. There is so much we can learn from other people. You can't go out there and learn everything yourself. Even the most successful people have mentors who taught them and looked up to them. That's something that you have recognized. If anybody is reading this, surround yourself with those people that you want to be like or that you are looking up to.
I had a lot of support from Scott at Rock's. He cut me loose and let me do the things that I think are good ideas. He's an amazing role model. We've got David Bennett at the Pinellas Realtor Organization, who's the CEO over there. The affiliates are guests of the realtor organization, and we were allowed to be in the building to do different events and sponsor classes. It's different than a lot of other realtor organizations. There are not too many that have a membership fee of $260 for the year and sponsorship opportunities of $3,000 and $2,000 for the year. Down in South Florida, you are going to pay $15,000 to be a sponsor at the realtor organization. We are very lucky.
It's a big opportunity for a business to get in front of a lot of people because I know they put on a lot of training, classes, events, and stuff that they do. It's almost every week.
We are starting off to 2021 strong. For the first three weeks of every month, we will have a networking event. There will be one right next door here at the Grillsmith in Clearwater. We do one in Lutz at the Walk-On's, which is an outdoor space. We went there and went to Downtown St. Pete at The Mill. We have spread it out throughout Pinellas and Pasco Counties so that there's something for everybody, we hope.
We are trying to make it accessible to everyone. Downtown St. Pete is pretty accessible for people that live in that area. Grillsmith is accessible right off of 19 for people in the Clearwater Palm Harbor Area, Dunedin. You have Lutz, and this one is right off of I-275 up there by the outlet malls up there. It's accessible and easy to get to.
There are great opportunities. We started doing the speed networking events because we can't do our regular PRO Connects because of the restrictions that have been put in place. These are seeded events, and every other person has a number in front of them. Every seven minutes, the person with a number in front of them gets up and moves to the next number of consecutive.
If you are sitting at 5, you will move to 6, which would be the other. You are sitting in front of someone different. You get to talk to them for seven minutes, which sometimes isn't long enough. Sometimes it's too long like, "Is this almost over?" Everybody is excited about it. We bring out some more d'oeuvres, snacks, and stuff for people. You can have drinks and everything like that.
The different venues allow different amounts of people. I will have anywhere from 25 to 35 people at these events. That has been a great opportunity. People are excited about it now. Moving forward, we are planning on those, and hopefully, things start clearing up. We are able to get back in and start to do more stuff.
The speed networking part, was that something new that you did?
Some of our board members came up with that. I believe it was Tina Housdan who's our Vice-Chair this 2021. She will be the Chair for 2022 and 2023. She's a huge part of the organization. She does a lot of work, is very enthusiastic and supportive of everybody. She's a hard worker. It has been great. People loved it.
It's a great idea because everyone is busy and has things to do. You are able to meet a lot of different people. There are some people you are going to vibe and have that connection with right away, and some people you won't. That's seven minutes allows you to be like, "That's not my guy." There is a lot of stuff you have done at the Pinellas Realtor Organization, which is cool.
We sent out a flyer to all the members, a survey and asked them, "What is your preferable charity that you would like to work with and why?" We are going to pick 4, one each quarter. We will work with that charity doing things as we did in 2021. Drive-up drives, whether it's a food drive or clothing drive, we will collect money.
We will go to that charity and do work, move stuff around for them, work in their pantry, whatever the case may be, and things we come up with. We are doing that as well. This is another way for people to come out, get involved, do something and meet other people. It's great when you work with another person. You built a little bit more of a connection.
You get to know them a little bit more than just having a conversation.
It fills up your heart when you are doing something for somebody else.
How can anybody who's a member get involved in that, come out for any of those charities, and put in some sweat equity?
You can come, work, donate money and goods. We will keep people posted through emails from Kim Simmons at the Pinellas Realtor Organization. I will also try to keep everything on social media. It seems to be a great way. I tried to hit them from every angle, not everybody is big on emails. I get bombarded with them. Go on Facebook. I will do live or do a post that explains what's going on. We try to get some traction that way.
Dylan, I appreciate you coming out here. This has been fun. It's good to connect with you finally and learn about what you are doing at Rock's Moving and the Affiliate Business Program, too. How can people find Rock's Moving Company? How can they get ahold of you? The same thing with the Affiliate Business Partner if there's a business owner that's looking to make some connections.
To find Rock's Moving Company, you can google highest rated moving company in Pinellas County, and we will come up on top. We are the highest rated by Google. We have the most reviews and the highest rating of 4.8 now, with 420 reviews. You can look us up through RocksMoving.com. To find the Affiliate Business Partners. You can go on the Pinellas Realtor Organization website. There is a tab that says affiliates right on the homepage.
You can tap on that, and our website comes right up. We are also on Facebook, @PinellasRealtorAffiliates, and Instagram, @PROAffiliates. Rock's Moving also has a Facebook page at @RocksMoving, and we have an Instagram page as well, @RocksMoving. It's pretty easy to find. We are all over town. You may see one of our trucks driving around. We hope you do.
Dylan, you are always on Facebook, and I see you doing live videos you talked about. Check them out on there. You can get to know him a little bit more as well. I appreciate everyone reading. Dylan, thanks again.
Thanks, Donnie. This has been great. I appreciate you.
—
I hope you enjoyed that conversation with Dylan. One thing that stood out to me was his passion and desire to help the community and those around him, all the stuff that he does with the Pinellas Realtor Organization and the Affiliate Business Partners Program to help other businesses and people in the community. Dylan is a big player in that department.
It's super motivating to watch Dylan do what he does. He seems like he's everywhere. I hope you enjoyed that and got some value out of that conversation as well. I wanted to say thank you again for reading. If you enjoyed what you have read, then do us a favor. Hit that subscribe button on Apple Podcasts, Google Podcasts, Spotify, Stitcher, Deezer, or Youtube. If you want to read our entire library or find more about the show, head to our website, PalmHarborLocal.com.

Important Links: