When buying your home, I'm sure you'll be searching for something that fits your budget but more importantly, your lifestyle! Today, we are sharing with you a home that not only has a story to tell but a view to keep you in awe. Join us as we explore this Crystal Beach Home you'll totally love.
Together with Kelsi Ward, we are exploring this Crystal Beach Home and showing you why it's the best place to be. Now, if you remember Kelsi, she has been a previous guest on our podcast and is apart of The Hathaway Group. If you haven't had the chance to check that episode, you can listen to it here: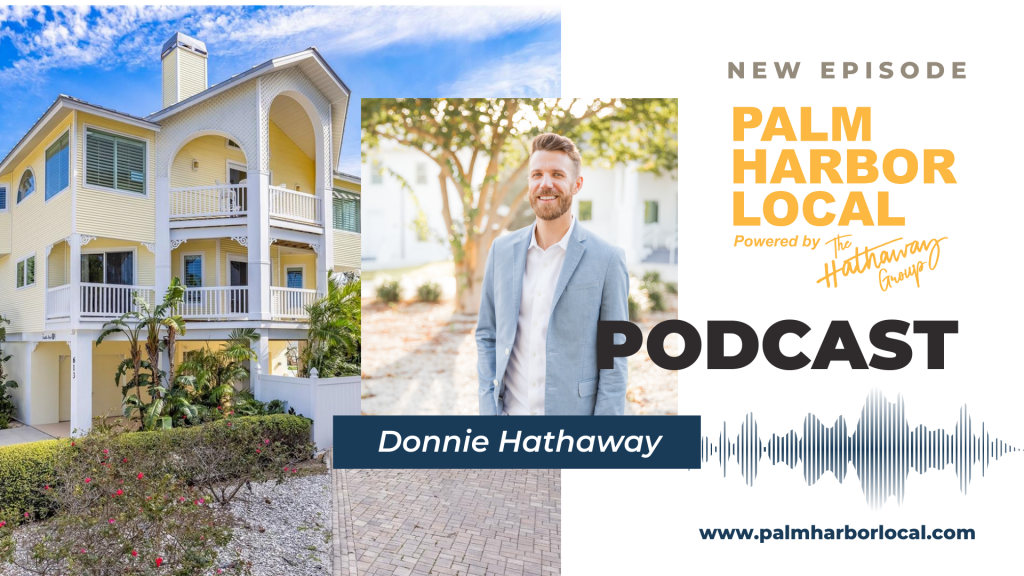 The Home's Features
I know you are in total awe… We all are. According to the agent Michael Choiniere, this home is listed for 1.1 million. The home has three bedrooms and two bathrooms and has an inverted floor plan. So the main living space, the primary bedroom, living room, and kitchen are on the third floor to take advantage of the beautiful views.
And the view — There are sunsets and Gulf views in every single room of this home. Yes, if the walk in shower! The owner just did a spectacular job ensure every detail of this home was well thought out. Even the foundation was built to ensure this home would last.
It really is beautifully built. The second floor that you walk up to is the guest floor with bedrooms, a bathroom and living space. On the third flood you will find you the main living quarters and of course the stunning sunset vies. The home also has four covered patios, one for each bedroom room and a main patio of the living room.
Although it's 2046 square feet, its total square footage is almost 3500 square feet. The addition of a brand new pool is also what makes this home a beautiful space to enjoy. Now this time of year, the sunsets right over the pool. This is definitely one of those home you have to see in person to truly appreciate that unique qualities of this home. It also his own little hammock beach next to the pool. It's really a great representation of the Crystal Beach community. Contact Michael Choiniere to set up your showing today.
The Beautiful Story Behind this Crystal Beach Home

Mike Burke, the owner of this iconic beach home ended up living here for a couple of decades. He raised his kids here and enjoyed some of his retirement in the beautiful home. When asked why he choose this place to settle. Mike said that living in Crystal Beach was originally mentioned to him by a close friend of his. Since Mike himself is a huge fan of setting in a major Metropolitan area where he would have access to culture, art, and nature (the beach), he decided to settle in and has never regretted it a day since.
He also mentioned how the community is so unique and has given him a place away from the hustle and the bustle of the metropolitan area without being too far away from it. He even added that his daughter, Maya is currently the Assistant Director of the Tampa Bay Estuary Program, and his son who is an ardent fisherman had gotten a sense of relaxation and love of nature all because of living in this home.
While this home is very dear to him, he understands that at some point, this beach home will be enjoyed by another family that can appreciate it just as much. He even added that the home served him well, raising his kids, seeing his grandchildren grow, and serving as his retirement home for years.

A Brief History of the Crystal Beach Area and why it's the Best Place To Be
Crystal Beach and the Palm Harbor area were first settled in the year 1850. Imagine what the landscaped would have looked like then?
The Palm Harbor area was originally citrus groves when it was first settled. About 100 years after Crystal Beach was settled, in 1948, they built the church. The church is located where most people gather to watch the sunset, and that church actually is still in use today. So from discovering, settling here, and then building up slowly the community has really evolved.
Initially, there were about 250 homes in the area and that has now grown to about 650 homes. The price point for most homes in Crystal beach can range anywhere from $250k, all the way up to $3 million. So quite a variety and part of what makes Crystal Beach a unique place in the Tampa Bay area.
IF YOU ARE INTERESTED IN THIS HOME, CONNECT WITH MICHAEL CHOINIERE:
 CONNECT WITH DONNIE: