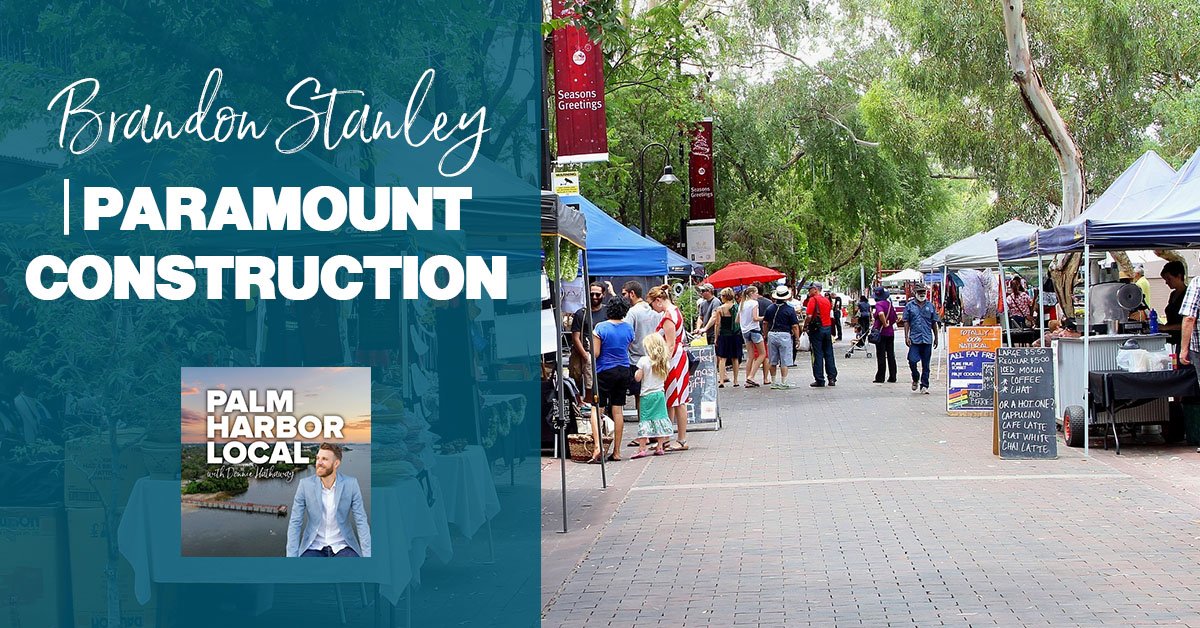 In this episode with Brandon Stanley, we talk about his latest project, The Dunedin Mix, which is set to open in Downtown Dunedin later this year! The Dunedin Mix is a great concept coming to Dunedin that will feature retail vendors, food and craft beverage vendors, and a co-working space on the upper level. We also talk about how Brandon got to this point where he has the skills and knowledge to develop this project. He grew up with a family of construction workers, putting in lots of work, hours, and making sacrifices along the way. Tune in to learn more about.
Brandon and his new concept, Dunedin Mix!
Looking to connect with Brandon.
Sign-up to our email list – PalmHarborLocal.com
Follow us on Instagram – https://www.instagram.com/palmharborlocal/
—
Listen to the podcast here:
Brandon Stanley | Paramount Construction
In this episode, we'll talk with Brandon Stanley, who is the Owner of Paramount Construction Group, Inc. and also the owner-developer of a new concept coming to Dunedin called the Dunedin Mix. I'm super excited to talk with Brandon to learn more about the Dunedin Mix, this concept, where it came from, going from the initial idea of creating this building to where he's at now beginning to build it from the ground up. Let's jump right into it. I'm excited to talk to Brandon. I hope you enjoy the conversation. Let's go.
—
Brandon, I appreciate you joining us and jumping on our show to share a little bit of your story and what you're doing here in Dunedin. I'm super excited to talk about that. Obviously, that's a fun project. First, let's start off by telling everybody a little bit about who you are and what you do.
My background is in construction. I know we went into a little bit, but basically, you can say the third generation in my blood. My father was a general civil contractor. His father was a contractor and a farmer. Growing up from a young age, I've been around it and fell into it and it was the thing to do. I originally started out doing residential work. Around 2008 I got my first large commercial project and it spiraled in a positive way since then. Now, we're doing some large $10 million-plus projects, pretty much all commercial.
We've done a few ultra-high-end residential homes, multimillion-dollar homes, but the most part is all commercial. It ranges from hospitals to restaurants all the way up to large-scale, high-rise hotels. I've done that for other owners and developers for almost my life now. You could say saving your pennies until you can get to the point where I can do for myself. I bought that property in Dunedin a few years ago with the intent to develop it. It took us a while to figure out what to put on the property, what would be the best thing, most feasible thing. Obviously, we found what it is. It's going to be the Dunedin Mix and we're going to be breaking ground.
Your company started out with doing residential. Is it building residential homes?
You don't want to be the smartest person in the room.
No, it's a subcontractor in residential homes. We went from that to word of mouth. People liked the quality of the work and the service they were getting. They would recommend me as a contractor versus the contractors that were hiring me. I ended up doing direct work for homeowners. It was small things. Originally, when I first started, it was concrete work, flatwork. I had a small concrete company and went up from there. The next thing you know, I'm doing residential additions. We're doing commercial interior build-outs to full-blown ground-up commercial projects that are $10 million-plus. It's trickled from a small single-man concrete doing driveways and sidewalks and stuff is where I started to where we're at now.
Was this your vision back then?
No, not at all.
It kept trickling.
At that time, I was 18, 19 years old, doing these concrete jobs. I do the concrete pouring and forming layout of pool decks and sidewalks and things. I found a knack for that decorative concrete at that time. I was one of the pioneers in the area doing that and started doing that heavily. I would get bored. If I got something and mastered it, I'd want to do something else. I kept adding stuff to it. Within five years, it started off with doing flat concrete work, to now, all of a sudden, I'm doing foundations, building walls, and doing a shell or home addition or something.
I perfected that and went to the next thing. I was doing finishes and interior build-outs with the help of people to retain or hire subcontractors. I kept improving and adding things to my capabilities or scope of work and more or less became a general contractor doing everything, the whole scope of everything. Go back to when I was in my early 20s. I was like 23, 22. I wanted to get my GC license. At the time, the state wouldn't look upon me as being qualified to get a GC license.
My dad was a general contractor in multiple states. He supported me and was like, "Even if you can't physically qualify on your own, you go show me that you're ready. You go take the test and pass it. You show me all the other responsibilities that they want." This means an excellent credit score showing financial stability, locking up certain funds they require in a bank account for a year. I did everything that the state would require. The only thing that I didn't have that the state wouldn't allow basically is adequate experience at that time as a general contractor. Even though I'd done some stuff, I hadn't done enough.
My dad said, "You pass the test, do the financial responsibility aspect, improve your credit score, your creditworthiness. You do all the other criteria and I'll basically sign off as being your qualifier." I did all that and he signed off my qualifier. It went toward the DBPR, the board in Tallahassee. This was like in 2008 or 2009. The board was pretty impressed with the whole thing, the way my dad handled it. At that time, I was the youngest person to obtain a general contractor's license at that age in the state of Florida.
How much experience do you need?
I need four years of four stories or higher ground-up construction experience for a GC. You can go to a certified builder, which is three stories or lower. I was trying to get that top-tier license, which gave me unlimited access to do whatever I wanted.
Going back to your childhood, growing up with your family being general contractors and stuff, what was it like?
It's very similar to what my life is like now. I remember my dad working hard. He was gone a lot from the family, staying overnight at jobs. I was telling you that he did put primarily large-scale public work, mainly freeway, bridges and underground utilities, major pipelines. We're talking $25 million to $50 million jobs up to $200 million jobs, very large scale. He would leave and be gone for weeks on end, come back. Sometimes, during holiday breaks or summer, I would go with him and work. I'd ride around with superintendents or something in the trucks. They gave me small tasks to do and let me play around with the heavy equipment.
Growing up was fun. It was a cool experience. That was pretty neat. That's one thing that drew me to it. It's definitely hard work. As I got to my older ages, like my early teenage years, for example, I wanted my first car. My dad said, "Fine. Get out there and dig holes in the ditches, dig these trenches, help lay this pipe and work off of your first car." I did that between school and summer break for six months every day." I saved not even a lot of money. It was $6,000 or something like that.
After I spent some money, I think I had $6,000 in savings. I was like, "That's enough. I'll get myself a car." My dad was nice enough, though. He's like, "I'm proud of you. I'm glad you did that. What do you have in there?" I was like, "$6,000." He's like, "I'll match it." I have $12,000 to get a car. I'm like, "Cool." Even though he definitely had the means to provide whatever I wanted, to me, my brother and sister, my family, he made us work for it and learn the value of the dollar basically the way he was brought up. My grandfather, his dad, was a very hard worker, a farmer, and a construction worker. It's labor work in our family.
People can work hard, but the labor work and working hard is a whole another level.
It grooms you in a different way to respect some stuff. That's for sure.
That taught you the value of hard work growing up in that environment. Fast forward to when you were eighteen, you started your first company.
Officially, a registered, some other word company, a local licensing at a smaller level, tax ID number, or a federal number. I was doing things before then, probably about 16, 17, but 18 is when it started.
Have you always had that desire and motivation to work for yourself?
Yeah. I've had two regular jobs. In high school, I was a bagger at Publix for about two months. That was a good job. That's a great company. I learned some good work ethic there, but it wasn't for me. I went and worked at a car dealership as a lot porter and an auto detailer. I did that for about six months. I needed to work for myself and take authority from somebody.
If I would be doing something as a lot porter moving cars around, I had a way I wanted to do it. They would tell me the way that I had to do it. I would disagree. In my mind, the way they're telling me to do it is we're wasting time and money. It's not my money. It's not the most efficient, so I thought of a better way. They wouldn't agree with me. It's that mindset.
That's probably a good lesson to take with you. When you own your own business, too, is when you have those types of people instead of being a micromanager, which is probably that's what you're saying you didn't like. People are saying, "No, you have to do it this way," instead of being a leader and saying, "Here's the task." If you have an efficient, better way of doing it, by all means, do that.
I'm pretty good about that too. I wasn't as good about that when I first started out. I was stubborn and wanted things done my way. It was my way or the highway attitude. Over the years, though, I've opened up a lot and learned that I'm not the smartest person in the room and don't want to be the smartest person in the room. One thing my dad taught me is one way to succeed and get far ahead in life is to try to hire the smartest guy you possibly can and have them help you succeed together in the same momentum. I learned quickly that the way I was doing it was definitely the wrong way.
One way to succeed and get further ahead in life is to hire the smartest guy you possibly can and have them help you.
I went back to what he taught me. The people who have worked for me now are long-term employees. For example, my top employee has been with me for six years. He's a 60-year-old guy and has obviously been around the block. He's been in construction for 40 years of his life. He's been with some of the biggest companies in the nation for contractors. He's physically has been a project manager and senior superintendent for projects valued at over $100 million, like at The Point Orlando, for example. He has far more experience than I do. He's alluded to the fact. He's like, "I'm pretty impressed the way you handle yourself and let me delegate what I need to delegate and have control of the things I need to have control of." It's a give and take.
There are some things that you need to like, "It needs to be done this way." Another is you can let them have the freedom to do it the best way. That's a good lesson learned. Let's talk about the Dunedin Mix. An exciting thing that drew me to you is I learned about that and how I got in touch with you. Tell us about that. This is the first one you've developed.
For years, I've been building as a contractor or builder for other owners and developers. Obviously, I've always had it in the back of my head. I was like, "One day, I want to be that guy." I worked for myself, but I don't work myself. I worked for him. He was calling the shots. I was like, "I want to be there." A few years ago, after lots of years of saving, we created a decent amount of cash to secure that property. We paid for it. We had some visions and basically took the vision we have now, Dunedin Mix, all the way through to where it's coming true.
There are a lot of things I've learned on this side of the table that I took for granted some of the developers and owners. It's definitely a learning curve. I learned a lot. It's a lot harder and riskier to be a developer than I thought. I thought it was a lot easier. There's a lot of political stuff in it, local government and red tape stuff to get through. We secured the property, took the idea, got a designer and civil engineer on board, and turned that idea into more or less reality. I've picked up the permit. We have our pile driving contractor starting.
What's it going to be? When it's built out, what's the whole concept? What can people expect?
The easiest way to explain it is if you have heard of Armature Works in Tampa, it's like a miniature version of Armature Works. I by no means was trying to copy them. It's a vision that we had a couple of years ago. When we visited Armature Works, we were like, "This is almost exactly what we want to do." It solidified. This is definitely what we need to do. This works and is a cool concept. We had our own little twist on it. We wanted to be into walking towns. Dunedin being local here is perfect for us to be our prototype.
We have ideas to branch, like a product, a brand, maybe not nationwide, but definitely across Florida with it. The concept is it's going to be a two-story concept. The ground floor is a food hall concept. We have some of the best chefs in the local area that will curate with us different menus, eclectic menus, and a variety of menus. All they focus on is pumping out high-quality food in a short time, low ticket times.
The Dunedin Mix provides the dining atmosphere, the entertainment, the venue space, more or less. That's the ground floor. Upstairs is a shared workspace concept. There are lots of different versions of it. Lots of people have spun off their own thing they've done. It's picking up momentum now, especially with COVID. There are other versions of a shared workspace. That's what we're going to be doing. It's a mash of all those combined in ours. It's going to have that upstairs and an event space, banquet space, a wedding reception, maybe weddings, things like that.
It's going to be very diverse in what you guys can do and stuff.
It's a mix. Our brand name is going to be the mix, Dunedin Mix, Safety Harbor Mix, wherever we go, the mix basically.
Let's go back to the beginning of finding this location and why Dunedin. What goes into saying like, "This is the one. Let's get it?"
You go back a few years ago when I started searching for real estate. I had different towns in this area, Oldsmar, Safety Harbor, Dunedin, even St. Pete, mostly Pinellas County, that I was looking at because it's close to home, to be their first one. Dunedin has always been my number one pick. I liked the market and the economy there. It seems pretty stable. To be honest with you, one of my first picks was where Artisan now is on Douglas, but the property was out of my reach. It was too expensive for me. I'm not to that level. That was my first pick. I was thinking about maybe trying to divide it up a little bit and take a smaller chunk. There was another piece down there in Dunedin, but its location, off of Grant Street, wasn't as appealing to me. I wanted more visual traffic.
I needed more exposure. The property that we bought was in the market for almost a year. The previous owners have had it for a long time. They had the labor of love there, like a midwife-type facility, a birthing facility. I believe it was because of health issues that the person got out of it and sold the property. When they first listed it for sale, the price was pretty high for the size of the property. It had some design restraints with it. You had to be creative. It's going to cost more to develop it.
As I'm still looking, I remember seeing it before. All of a sudden, I noticed they dropped the price on it and a huge number too. You got to think, the heirs of it, more or less, want to sell it and liquidate. They start high and they go a little quicker. As soon as they lowered that price, it wasn't even 24 hours and we put an offer on it, basically full price offer, cash. We closed within 15, 20 days or something like that.
Where's the location at?
The best time to invest in real estate is yesterday.
It's the corner of Broadway, which is Alt 19 and Skinner, which is also Tilden, a weird intersection right there. It's a very high-traffic intersection. It's like one of the highest traffic intersections in Dunedin. There are lots of vehicular exposure, plus it gets lots of walk-up traffic too.
That's the perfect location, the people driving by going down Alt 19, going to the parks and stuff. The walkability of Dunedin, that's going to extend it out even further.
There have been other people over the years that have already started expanding closer that way, to that direction. We're one more stop for now. You have House of Beer and Artisan out there like Sounders and Woodwright, Scone Age, Seven Sunbury, Hopscotch, you have all these places over there in that corner of that quadrant now, Lucky Lobster, CUNY. It's not mainstream anymore. It's expanding out to that way to that downtown trifecta, downtown core area. It's a big space. It's probably like 2 or 3 square blocks wide by 5 or 6, maybe 7 square blocks in length. There's all the way from where Clear Sky's at to our property down to Victoria Place. It creates a triangle. That's the whole downtown core quadrant.
You're starting construction on it. You got permits and everything. How long do you anticipate construction? How long do you think before it'll be open to the public that people can visit?
It's ten months of construction. We have some finishing touches and will have our grand opening before the end of 2021. It will be open to the public before the end of 2021.
2020 was a crazy year. To be able to keep this project moving and stuff was a huge plus.
We thought about that too because there've been increases in raw material costs in the last quarter. We got another increase for steel. We've had raw material increases of roughly $90,000. That's a relatively small project. That's a big number. My mother and I were partners in it. We've contemplated like, "Should we postpone this? Should we more or less wait for the market to go down and start construction at a down market so you can get materials and labor cheaper?" We have a lot in the line already. We have $1 million sitting there. We feel that it was better to keep going. If you think about it, $100,000 is a lot of money, but it's a small amount compared to what we already have invested in and what's left to go. We might as well hammer down and get it done.
It's one of those things where it could go up or costs could increase.
That's an unknown variable.
The saying if you're talking about real estate, "The best time to invest in real estate is yesterday regardless of what the prices are."
We bought the property at a good time, too. What we paid for it and what it's worth now has even increased more than $100,000. You factor that in too. I talked to my suppliers for my raw steel rebar and structural steel items. They gave us a price increase and are talking about there's going to be another price increase. I'm like, "Is that going to be the last one for 2021?" They're like, "Probably not." COVID has played a big role in this supply and demand for materials and labor. You don't know, is that going to stabilize or stop? When the supply and demand get into control and check, do they correct their prices and go back down? Probably not. They're used to getting paid so much per ton and steel. That's why I said, "It made more financial or economic sense to keep going forward."
It would be a great addition to the downtown area of Dunedin. It's another place and stop like we talked about to the visit and walk out and check her out. I like to ask one question to wrap it up. Since your location is in Dunedin, I'll ask you about Dunedin specifically. What is your favorite place to visit in Dunedin? It could be a brewery, shop, restaurant, whatever it is. If you had to pick one, what's your favorite?
I know I have a lot of friends that are local business owners in Dunedin too. If I don't call them out specifically, I feel like I'm going to get criticized. I like Hopscotch Cafe. They have amazing sandwiches. Their food is incredible for somebody that doesn't even have a hood, he's very limited, but he's got great food, Oakley there. He's got a phenomenal beer selection. He has some taps, but he's from the West Coast, which we're from the West Coast as well. He's expanded his horizon as far as his taste buds and the options out there. He's got some pretty cool selections of beer in cans and bottles.
They got wine there too. I'm trying to think of another restaurant or a little sandwich shop or something that has like a beer selection, like what he's got. I don't know if there is anything like that.
I don't think so.
Their sandwiches, what's your favorite one?
It's The Dino.
I don't think I've had that one.
The Semplicita, that's a good one too. He's got these roasted tomatoes. He doesn't make himself and tell people he does because they're phenomenal.
I'm trying to think of the one sandwich that I usually get. It's like the old section of his menu. I can picture where it's at. I can't think of the name, but nonetheless, their sandwiches are unique and good.
You can't beat some beer right there next time too.
Brandon, I appreciate your time. I'm looking forward to seeing the Dunedin Mix come to life. Obviously, it's been a labor of love for quite some time. You've invested a lot. I'm looking forward to it. I appreciate you taking the time to chat with us. You do a lot of commercial projects and stuff now, but if anybody can get in touch with you or has any services they need, how can they do that or learn more about the Dunedin Mix?
They can go to www.DunedinMix.com and learn everything they need to know about the Dunedin Mix. If they would like to inquire more information, there's a Contact Us form there. We're all about spreading the information and letting people know what's going on. For Paramount Construction, you can go to TheFLContractor.com.
I appreciate it again, Brandon. Thanks again.
Thank you.
—
I hope you enjoyed that conversation with Brandon and getting to know him a little bit more and what goes into developing a project. Something like the Dunedin Mix, from the initial concept of, "This is something we want to do," to finding the land and to going through the permitting process and getting everything approved with the city or the county, whatever it is to building the property itself and getting tenants and vendors in place. There's a lot of work that goes into that. I'm super excited to see what the Dunedin Mix is going to be and watch it being developed here in Dunedin.
Thank you guys again for reading another episode. If you enjoyed what you heard, do us a favor and you can hit that subscribe button. Whether on Instagram, Spotify, Apple Podcasts, Google Podcasts, Stitcher, Deezer, YouTube. If you're on YouTube, you can click that bell and you'll get alerted every time we post a new episode. If you want to learn more about Palm Harbor local, sign up for our newsletter, you can visit our website at PalmHarborLocal.com. Until then, take care. We'll see you next time.

Important Links: