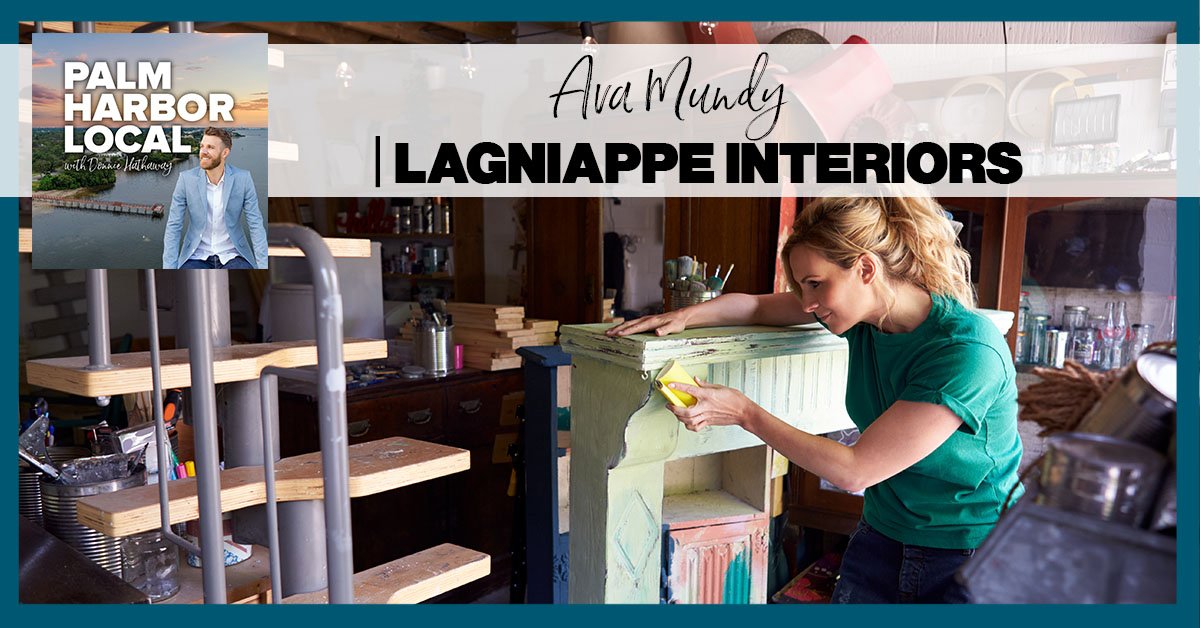 Lagniappe Interiors is a small boutique store in Largo, Florida that sells repurposed furniture, home décor, and clothing accessories. Ava Mundy opened the doors to Lagniappe Interiors in the middle of 2020 after she discovered how much she enjoyed giving old furniture life again! She started with one piece of furniture for her family, and 1 year later it grew into this new business and passion that Ava could not pass up on. She had no plans to start a business at such a young age and in the middle of a global pandemic, but with the help and support of those around her, she made it happen. Ava's story is a great example of how success is not obtained by one person. It takes the help and support of those people around you to achieve your goals, and she had just that when she made the decision to open her store. So, if you have thought about doing something outside your comfort zone, then take Ava's advice and just do it!
Looking to connect with Ava!
Sign-up to our email list – PalmHarborLocal.com
Follow us on Instagram – https://www.instagram.com/palmharborlocal/
—
Listen to the podcast here:
Ava Mundy | Lagniappe Interiors
In this episode, we sit down with Ava Mundy, Owner of Lagniappe Interiors. I'm super excited to sit down with Ava and learn everything that she has been through and learned along in her journey from opening up a store. She opened up laying up interiors in July of 2020, in the middle of the Coronavirus pandemic. I know she's going to have a lot of great value for you as you are reading. Let's jump right into it.
—
Ava, I appreciate you joining us and coming to the show. I'm excited to learn more about your story and what you do in your business. I want to start there. Talk to us about what Lagniappe Interiors is and where that came from.
Thank you so much for having me. I'm super excited to be here. Lagniappe is a Cajun French word that means a little something extra. My mom's side of the family is originally from Louisiana, so growing up, we used to go there for spring break every year. I fell in love with the food, the culture, and the architecture. You don't find it anywhere other than New Orleans. It's its own world down there.
It's a special place.
When I opened the store, my mom and I were going back and forth. We had running lists on our phone of what are we going to name it. I wanted it to have a story behind it, something that meant something to our family and me. Everything I came up with originally was The Painted Pineapple and some girly stuff like that. My mom was like, "What about Lagniappe?" I was like, "Mom, nobody is going to know how to say that."
We had Lagniappe on our phone. One night at 11:00, I was still living at home and sitting in my parents' office. She was across the house and was like, "Mom, what if we put interiors on the end of it?" There we go. That's how it happened. It started and took off. One thing led to another. We were looking at space and signed a lease on space. It was like, "We have a month and we are opening." Here we are months later and I do all custom painted furniture.
Opening a business is scary and a big responsibility, that is why you need to love what you're doing.
All the furniture in the store is hand-painted. I do it all myself. I do a lot of custom work for people too, especially in my generation, we inherit all of this furniture from our grandparents and parents. It's dark wood. It's neat to be able to keep that and to say, "My grandfather built this," but now we can make it fit into our own home. With a little bit of paint, we can call it a day.
Freshen it up a little bit. Before Lagniappe Interiors, where did the idea come from? Why open up your own business? What did you do before all this?
Originally, I graduated from Calvary Christian High School in 2019. I graduated with a lacrosse scholarship to a small school up in Asheville, North Carolina. I was super excited. I loved lacrosse. I was going to school to be a physical therapist. I've got there and I was there in less than ten days. There was a series of events and I was like, "I'm coming home. This isn't for me." I packed my car and drove back to Florida. I enrolled in three classes down here at SPC because I missed the enrollment deadline. All I could get was three classes.
I was bored out of my mind. I was used to going to high school all day, going to lacrosse practice, and going to work, whether that be lifeguarding or a hostess for a while. I was used to a busy schedule. My family would get up and they would go to school or work and I'm sitting there twiddling my thumbs. I was like, "I did my work for my three classes. Now what?" To keep me busy, my mom was like, "Go find a table for your brother and paint it."
She wanted something for him to be able to do puzzles and homework at. I found something and painted it. I was like, "That's fun." I took the same gray paint that I painted our table in, found some free stuff on Facebook, painted that, and sold it. I was like, "We might be onto something here." It was not the plan at all and I loved it.
The next thing I know my poor mom's whole house was full of furniture. It's in the backyard, the garage, and in our house. In January of 2020, I moved out and leased a storage unit over in Belleair and started painting there. When the pandemic happened, I was a vendor for a store, so I rented a room. They had to close and I did one Facebook Live video. I sold everything. My stepdad helped pull all this furniture out of my storage unit. We lined it up and I went down the line. It was insane how much I sold in one video.
My stepdad was the one who was like, "Maybe you should open a store." I joked with him and I'm like, "I am still in college. I don't know squat about this. I don't know anything about business, let alone, 'Let's go sign a lease on a commercial storefront.'" That's what we did. My mom is in mortgage and she knew some great realtors. They took me out and they are like, "Here we go. This is what we found for you." I called my mom and I'm like, "You need to come and see this. I found one."
Have you ever painted or redo furniture before? Was it that one time when your mom is like, "Do this for your brother?"
I'm so far from artistic. I played sports in high school. It was that one time. It took off and here we are.
What is it about redoing the furniture and stuff that you love so much and that led you to open up your own store?
I love being able to take a piece of furniture, especially the ones that people were like, "That's ugly. We are going to throw it away. You can have it. We don't even want it." I paint it and people are like, "Holy cow." It's amazing what a coat of paint will do for something. I love that aspect of things. I love taking something ugly and at the end, we are like, "Look how pretty this can be." It's a nice solid wood piece of furniture that will last several generations past us.
The furniture that our grandparents' have is probably better than the furniture that we are buying in the stores now. It's not even real wood or anything like that.
I have learned that most of my friends can't tell the difference between real wood, particleboard, and MDF. They will be like, "It's so heavy. It's real wood." I'm like, "They make heavy MDF. I promise." They are like, "No, it's real wood." I'm like, "No, it's not."
You start painting and repurposing furniture, and you open up your own business. What is that decision like? What was going through your head at that time?
It was scary knowing that it's a big responsibility but at the same time, I knew that at this moment in my life, I was going to school. I have my parents but I don't have a family of my own like kids or anything like that. I could give my undivided attention to my business, so I feel I have all the time in the world. Some of my friends make fun of me. They are like, "You are always working." I don't look at it that way. I love to paint. I love to go in, sit down and look at the business side of things. I love to look at the numbers. It was definitely scary.
There were a lot of nights that I would be at the store until 4:00 AM, 5:00 AM, 6:00 AM painting the walls. I would go home, go to bed until 6:00 or 8:00, get back up and do it again. It was a lot but it's worth every second of it. It's so cool to look back and it's like, "I can't believe it. We are months into having a store. It feels like we only opened it." It was scary.
How far back was it that your mom was asking you to paint a piece of furniture for your brother?
Let other people's strengths cover your weaknesses, and bring them all together into one.
That would have been in August of 2019.
Here we are in January of 2021. You went from never doing any of that before, now you have your own business.
It's so cool to look back on my camera roll. I remember pretty much every piece of furniture I have painted and it has probably been a couple of hundred different pieces now. I will have people come back that I have done custom work for and they were like, "Do you remember what color this is?" I'm like, "Yes. I can tell you exactly the name of that, what brand of paint it was, how many coats of paint I had put on your dresser." It was not the plan. I thought I wanted to be a physical therapist. Not anymore.
It's amazing what can happen in such a short time when you put your mind to something. Going back to your business, your store, what do you guys sell there? What products do you have? I know you have more than the repurposed furniture and stuff.
We do a little bit of everything. We have the repurposed furniture and home decor. We have everything from Turkish towel blankets to pillows. I make a lot of our pillow covers. We have hand-poured candles. Here in Seminole, they are 100% soy. There's wax melt, soaps, and women's clothing. There's a whole 12-foot wall of handmade signs. One of my vendors makes all these signs in her garage and she's out in Brandon.
It's cool to be able to bring several local businesses into one. The lady who carries my clothing has a store out in Carrollwood. A good friend of mine from high school builds live-edge tables so he's in there. I have a lady who carries Dixie Belle paint, which is the paint that I use on the furniture. It's made here in Port Richey. I have a good group of vendors and a little bit of everything.
You pull them all together and sell a lot of their products in your store.
A lot of the stuff that I know I'm not good at like the clothing, I can do furniture all day long, and the decor but when it comes to building furniture, I can't do that. I'm not good with the clothing or any of that stuff. It's neat that where my weaknesses are, those are other people's strengths. To be able to bring all of us together into one store is awesome.
Why did you decide to do that, instead of focusing on, "Here's the furniture and stuff that I make?" Why bring all these other different products into your store?
It's necessary to have a wide variety of everything. Most of the men and women that come into my store will walk in for a piece of furniture, they are like, "This blanket would look great on my couch and this dresser is going to go underneath my TV." The blanket matches the dresser and it all puts it together for them but I also have the people that come in that need a little something extra to give as a gift or they are looking for a dress to wear to this. It's cool to see how sometimes people will walk in for paint and walk out with a dress, a blanket or a pillow. I'm like, "I don't understand."
Lagniappe Interiors: If you're running a furniture store, it's necessary to have a wide variety of everything. Someone may walk in looking for paint but leave with clothes.
I thought it was necessary to have a wide variety of everything. You can only paint so much furniture at once. There's a cure time on paint and I paint pretty much 24/7. To be completely honest with you, I can't even keep up with the space I have. I'm constantly painting to get everything the way I want it and it looks nice. I'm like, "It looks great here. I'm full." Everybody comes in and it's like, "That dresser is sold and that dresser is sold." I'm like, "Back to it."
Where do you get your furniture from? Are there certain things you are looking for when you are trying to find a piece of furniture to paint?
I get it from everywhere, to be completely honest with you. I had family in Richmond and we were up there for Christmas and I was buying furniture and bringing it home. My poor stepdad. I was like, "I had the whole truck already loaded for you. I have it all picked out." I get it from any and everywhere. The only thing I look for is I want something that's solid wood.
I like the drawers usually to work pretty well. Being here in Florida with the humidity, a lot of times doors will expand. They do shrink back down usually but for the most part, as long as it's solid wood. I will usually take it. I get furniture from any and everywhere. I have a lot of people that will call me up and they are like, "I'm moving. I don't want this anymore. Can you come and get it?"
You have been the go-to person that's getting rid of furniture or, "I have something for you?"
I had a couple who texted me about this big, beautiful bookshelf and like, "I love that." I was like, "My storage is full. I have nowhere to put this." I wanted to take it. I loved it and it's beautiful but I was like, "I don't have any room. I'm so sorry."
I want to go back to you starting the business, and going through that process of opening up your own store, especially in 2020. This is after the stores shut down and you are deciding, "I'm going to open up a storefront." Most people are closing down because they can't pay the bills. Talk us through that process and things that you maybe did that you thought helped you get through those times.
There was definitely fear when I opened my store because we were going through a time when people are closing and businesses aren't doing well. Who in their right mind is like, "Let me go and open a business with an actual store with real bills?" It's nuts because there's that thought in the back of your head, "What if we have to close again? What if people don't know that I'm here? What if people don't like it? What if people are scared to come out and shop?"
Without my parents, I wouldn't have been able to do it because they were the ones to push me. They were like, "At this point in your life, you have this opportunity in front of you. Why not take it and run with it, and see where you end up?" It was my parents and my family. My best friend was here when I opened my store. She's in school but she was another one who's like, "Ava, it's great."
She was helping me paint in storage one day and I showed up with the key. I was like, "I signed a lease for a storefront." She's like, "What?" She helped me out a ton. She would come in and paint the walls for the store. It was awesome having her because I can paint furniture but I cannot paint walls. I suck at painting walls. I made a huge mess and it's the most boring thing in the whole wide world. When we open the store, I'm about 2,000 square feet and it's a lot of walls. I told Amber, "Painting this place should take two days." It took two and a half weeks to paint the entire store but it was definitely a process but it was worth every second of it.
What are some things that you learned along the way going through that?
Always lock your doors when you are there by yourself. I don't know why I never thought to lock my doors when I was there and people would walk in.
Was it late at night, after hours or something?
If you have an opportunity in front of you, take it, run with it, and see where you end up.
I knew that after hours when it was dark, I needed to but I didn't realize that people would walk in. I'm like, "I'm not ready for you yet." It's stuff like that or being able to keep up with social media when you are not even open yet. I was pushing social media super heavily in the beginning. It's like, "We are opening. We are doing this." I wish I would have known to sleep a little bit more back then. Go home, sleep and you will get it all done. The sleep part would have been a good one for me because I was like, "Go, go, go." I had family members who texted me, "Can you please go home already?"
That's a difficult thing to do as a business owner. There's always a list of things to do, so you are always trying to complete the list. It's not going to happen. As a business owner, you are in charge of, especially if you are the only one, you are starting a new business. You are in charge of doing all of that, so you have to find that time and that balance. It's different for everybody, too. You have to find that time to shut down, regroup, and stuff.
It was worth it. My best friend and I took our last trip together because I knew once we opened the store the odds of us being able to go somewhere together were slim. We went to Key West the month before we opened the store. It's definitely taught me to schedule myself down to the minute. When I get to the store, 10:00 to 10:30 we are doing this because I will get down this social media rabbit hole of like, "Let's use social media for every business page I have." That will eat away your time.
Let's talk about marketing a little bit. I'm sure you had to learn a lot about marketing or find ways to get people into the storefront. What are some things you learned there? What are you doing to market your business?
I love Facebook and Instagram. I can link them together and start on Instagram and it updates my Facebook. I have met several people who come up to me and they are like, "Ava." I'm like, "I don't know who this is." They are like, "I watch your live videos on Facebook all the time." I'm like, "Which one?" It's so embarrassing. The live videos are a big one in keeping them short and sweet. I have a pretty short attention span as does most of America.
Some of the stores, especially up North, that are similar to mine will do these two-hour long videos and it works for them but it's funny to see that down here everybody likes the short, sweet, and condensed versions of them. I love Facebook and Instagram. I have a website. I didn't realize how much time a website will take to keep it updated and shipping orders when I get them online. Social media, Facebook, and Instagram have been the two that have been the biggest for me. I was going to try to get into YouTube for a little while but Facebook and Instagram keep me so busy as it is. I'm going to keep that now.
It's time-consuming especially when you are trying to be consistent with it for business.
Also, trying to come up with new content to keep interested. I'm there, so I look at the same stuff all the time and I'm like, "How many times can you talk about a dining room table?" I have to get creative. Luckily, my mom is always brainstorming too and she will call or text me, or when I see her, "Have you thought about this?" It's nice to have a support system where they are thinking for you because I could use a whole other me just for social media to do that stuff.
Were you ever big into social media before the business or did the business push you into using Instagram and Facebook? For me, I knew that I was never big on social media before I've got into real estate. It's because of real estate, I have started to learn a lot about Instagram and Facebook and everything.
I was on Facebook and Instagram before probably all through high school. I was bigger on Snapchat because I could talk to my friends and do that stuff. Facebook was more like my extended family like my parents' friends. It was political. I would go on there occasionally and write about whatever was going on in my life at that point in time.
It was more of a journal. I look back on some of it now and I'm like, "Why did you put this on the internet? What were you thinking?" I grew up in that social media generation. I look at some of my vendors and they are like, "Ava, you are great at this." I'm like, "I don't think so." They are like, "It comes so easy to you. Can you show me how to do this?" I'm like, "Yes. You do this, this, and this." I had the advantage of growing up in that era.
This is everything you have known growing up. I remember getting my first cell phone when I was sixteen and those were the first little Nokia ones with Snake on them and stuff. Also, flip phones and everything. Social media wasn't something that came naturally to me so I had to learn the platform, learn Instagram, and how to market yourself. If you could go back to the beginning, is there something that you wish you would have known from day one that you know now?
My mom told me this in the beginning, and I laughed at her. I wish I would have taken the time to slow down and take more pictures and videos of what daily life was like back then. I'm a go, go, go now but back then that one and a half months that we had to open the store, I had a deadline because I put so much into social media. I'm like, "I'm opening on July 1st." I will be completely honest with you. I didn't know if I could open on July 1st. I picked it randomly out of my head and I was like, "That sounds good. Let's roll with it."
It might have been a Tuesday or a Wednesday. It was a weird day of the week but we did it and I couldn't open without my insurance and I didn't even have insurance until the day before I opened. It's stuff like that people don't think about. It took me a long time to get insurance. I didn't know that that would be an issue. When it comes to repurposing furniture, they don't like it.
Stuff like that, I wish I would have sat down and made an effort to take pictures of Amber and me painting or doing stuff late at night. I have a good collection but I look at how much fun I had opening the store. I loved that. It was an adrenaline rush 24/7. I never knew what the next day held. I didn't know what I was doing the next day.
I knew that I had a list of stuff that needed to be done but where do you start? It's all-important. It was stuff like that, that I wish I would have slowed down and realized, "I would love this." There would be times where I'm like, "I'm so stressed out." I lost all kinds of weight because I was moving furniture and forgetting to eat it. I was like, "Mom." I wish I would have slowed down and enjoyed the process.
My aunt, my mom's sister, opened a store in Virginia in October 2020 and I told her that. When you go through this, yes, it's stressful, dealing with the city and permitting and all that not fun stuff. I was like, "It all eventually passes and you are open." You will look back and be like, "It was all worth it and it was fun. Look how many people I've got to meet that I wouldn't have been able to meet because I wasn't opening a store and meeting people." I loved that about it.
You hit on a good point. Enjoy the process. Now, moving forward, a lot of us get caught up. I want to get to this goal. That's what we are focused on so much instead of living in the moment. That's what it is.
I have to listen to that thought every day. There are some weeks where I'm like, "I have three custom jobs going. I need to paint for my store. I'm stressed out." This is so much fun. I love to paint. I love to see the finished product and when people send me pictures of it in their homes. It's worth every second. I will put a podcast on, I will paint, and get it down. I look back and I'm like, "Why are you stressing out over that? Enjoy it."
This is about what you love doing.
I love every second of it. Sometimes, there are moments that I'm like, "Why am I doing this?" When I slow down it's because I love it. I wouldn't want to do anything else. This is what I'm passionate about.
One last question for you, if you could give advice to somebody who is thinking about doing something similar to what you have done, you open up your own business, is there anything else that you would share with them?
Starting a business is really stressful, but it will all eventually pass and you'll look back and notice that it was all worth it.
Just do it. There's no good time to start a business or open a store. There's always something going on that you can say, "I have this going on. I have kids while I have this." Just do it. Get out there and try it. There's no good time to do it. I thought it would be years out from 2020. I wasn't ready and we are pushing through every day. Get out of your comfort zone and go for it.
There are so many people in the small business community that want to see others go out and do it. The community is awesome. People are always like, "It's awesome. Good luck. We will be back." People love entrepreneurs. They love watching people grow. They will support and help you in any way that they possibly can, so just do it.
That's some good advice. I think about what you said there about the community and stuff. You are down at the Largo Belleair area but even up here, we are in Dunedin, Palm Harbor, all the small towns, and even Pinellas County they all have that community feel and stuff. Everyone wants everyone to do well at the end of the day. Eva Mundy, I appreciate you coming out here to sit down and chat with us. For anybody who's reading, where can they find Lagniappe Interiors?
We are located at 1901 West Bay Drive in Largo, Florida. When I named drop Amici's Italian Restaurant down by me, everybody is like, "I know where you are." When you know where Amici's is off West Bay, we are in that plaza at the opposite end next door to Allstate. We are right off West Bay a couple of lights before on Lunax Road.
Do you have a website where you have most of your products and stuff on there as well?
I do. All of our social media and our website is our name Lagniappe Interiors. You can find our website on all of our social media. It's everywhere.
Perfect. Thanks again.
Thank you.
—
If reading about Ava doesn't inspire you or motivate you, I don't know what will. I'm super glad that we took the time to sit down with Ava to know about her story. It's interesting and inspiring to know that she went from an idea of possibly having a business to opening up a business within a year's time from the first time that she painted a piece of furniture for her brother. I'm super inspired by her story and what she's done. I'm excited for the future of Lagniappe Interior.
I wanted to say, thank you, guys, so much for reading another episode of Palm Harbor Local. If you enjoyed what you read about, do us a favor and hit that subscribe button, whether you are listening in Apple Podcast, Google Podcast, Spotify, Stitcher or YouTube. If you are on YouTube, be sure to click that bell and you will get notified when we post a new episode every single week. If you want to listen to any of the other episodes that we have posted previously, head on over to our website over at PalmHarborLocal.com Thank you, guys, again, and have a great week.
Important Links: